Welcome to our new department blogs! We want to keep our customers updated on what's going on in every area of our store and this is where the managers will be posting about pets, sharing fun pictures and videos, and keeping you up to date on new products and sales!
This week in Small Mammals we're getting in new ferrets and bunnies! Stop by this weekend to meet and snuggle with our new additions.
While Ande was trying to take pictures to update the website this little polish rabbit tried to eat her phone! Their little "fight" ended in them making up with nose kisses. All the attention from our Jr. Volunteers and customers keeps our animals so sweet!
---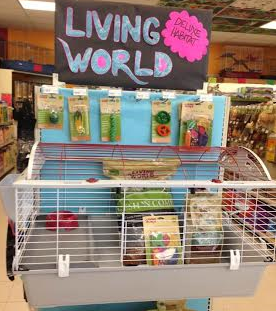 Also this week we wanted to showcase our Livingworld Cage Kits! These are great for rabbits and guinea pigs and we love that they come with everything you need - just add your favorite perishables. These kits include the cage, a hide, food dish, water bottle, as well as a hay feeder! All you have to do is pick out your bedding, food, hay, chew toys, and treats for your pet. You get the convenience of a kit while still leaving your options open for some of the items more specific to your pet's needs or likes. Whether you're upgrading your pet's cage or adding a new family member these cage kits are great options. Need help picking out the items not included in the cage? A Pet World employee would love to help.
See you soon!